Topics Reviewed: 
1- SPX's performance
2- Patterns
3- Breadth
4- Sector ETFs: XLC Communications
5- QQQJ NASDAQ Next 100
6- PBW Clean Energy
7- ARKK
8- FDN, WFH, IPO
9- EWW Mexico
10- Silver SLV
1-Performance
The SPX logged its second straight 1% gain today and its fourth of the young year.  More specifically, this was the second consecutive advance of at least +1.2% since 10/21-10/25/22 (three straight).  The index had to endure that quick 1% pullback today, which made for a more excitable day vs. Friday.
It, of course, also was the first close above 4,000 of 2023 and just the seventh finish above the round number since September 12th.   The index failed near these levels in November twice and earlier this month.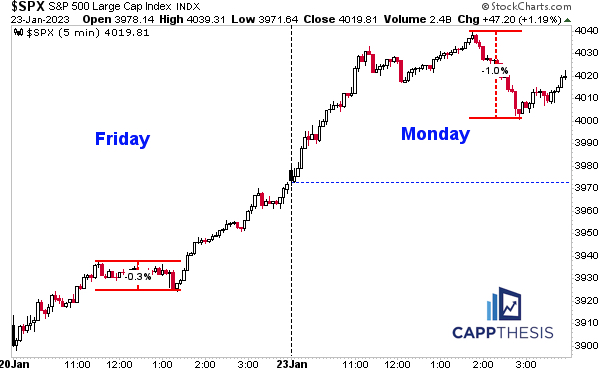 2-Patterns
The bigger base continues to build, but no new SPX patterns were triggered today.
3-Breadth & Style
Large Cap Growth had a firm lead mid-day, but the pullback allowed Mid-Cap Value to outperform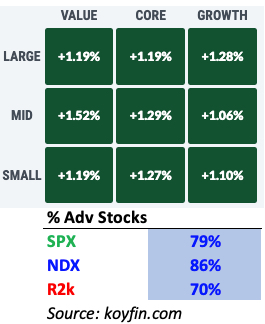 4-Sectors
All 11 Sector ETFs advanced on Monday, but it clearly was dominated by the five up 1% or more.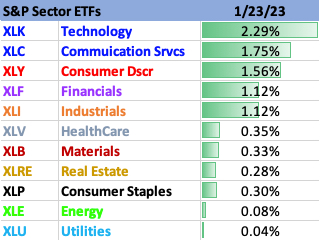 XLK led, but XLC continues to sport the most attractive technical pattern. XLC Communication Services extended upon last week's breakout today, which produced the first overbought reading since the very top in September'21. 
Clearly, the chart structures are completely different now, as XLC is 60% away from that high point.  Respecting the breakout zone on prospective weakness now is key.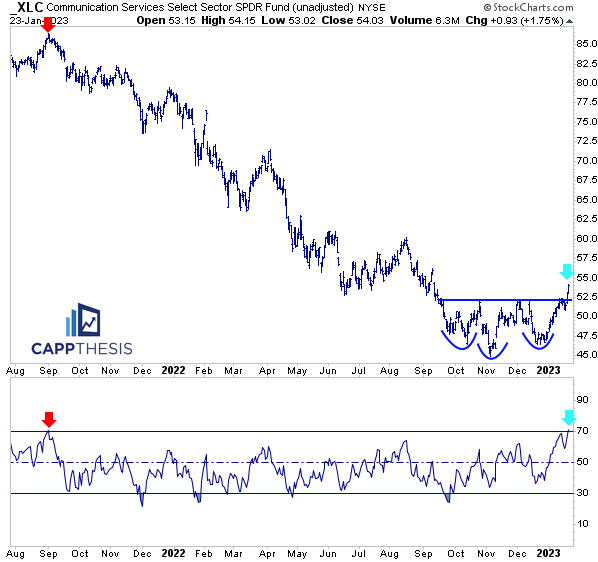 5- QQQJ NASDAQ Next 100
While QQQ's daily chart has yet to complete a bullish pattern, QQQJ is now very close to breaking out.   It has underperformed in 2023, but its relative strength line vs. QQQ has been making higher highs and higher lows since early November.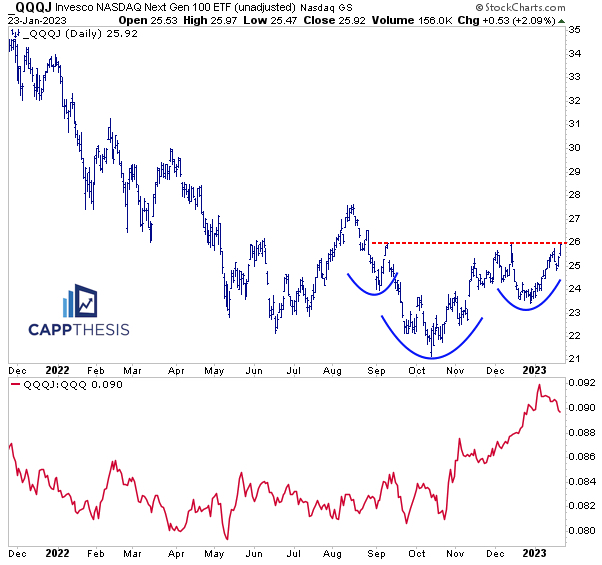 6- PBW Clean Energy
PBW was the best equity ETF we track today, and it, too, now is close to completing an inverse head & shoulders pattern.  It still has some obvious congestion up to 50 right now, however.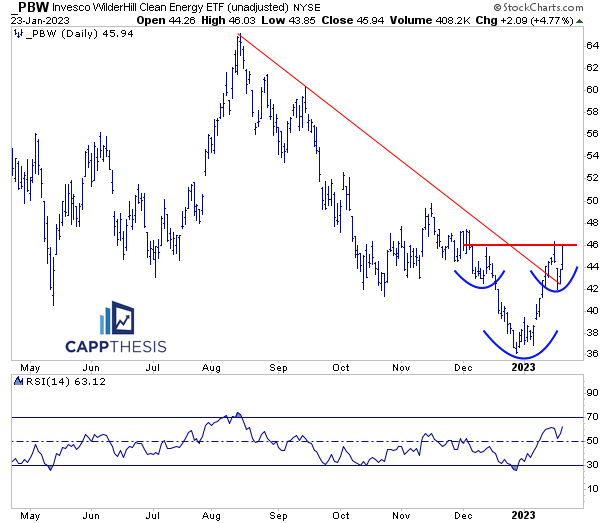 7- ARKK
ARKK now is up 8/10 days and just logged its fourth straight up week.  It hasn't had five consecutive weekly advances since BEFORE rolling over in early 2021.  It has many potential sticking points overhead, but we'll respect the breakout if it happens.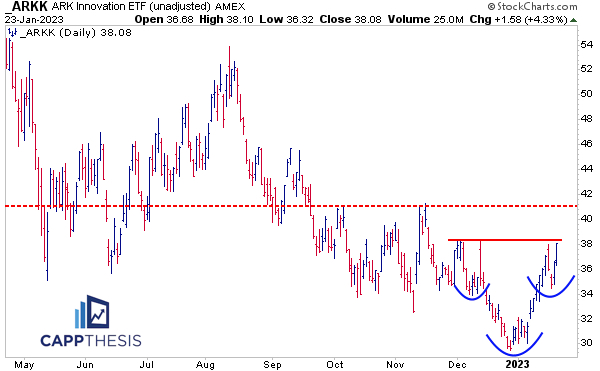 8- IPO, FDN, WFH
We've talked about IPO, FDN Internet and WFH Work from Home's collective inability to breakout recently.  FDN poked above key resistance today, while IPO and WFH could be getting close to doing the same soon.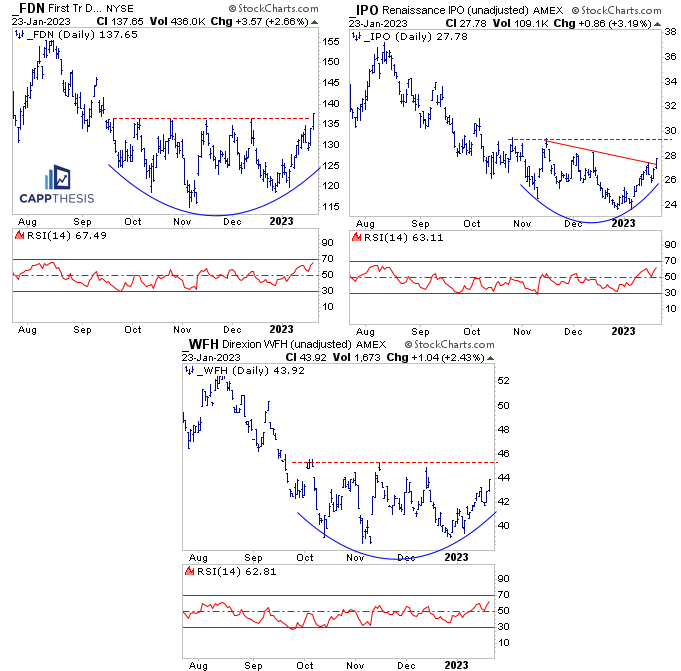 9-EWW Mexico
EWW was the only ETF we track to make a new 52-Week High today. It's now made new WEEKLY highs for three straight weeks and has, thus, extended beyond its recent breakout point.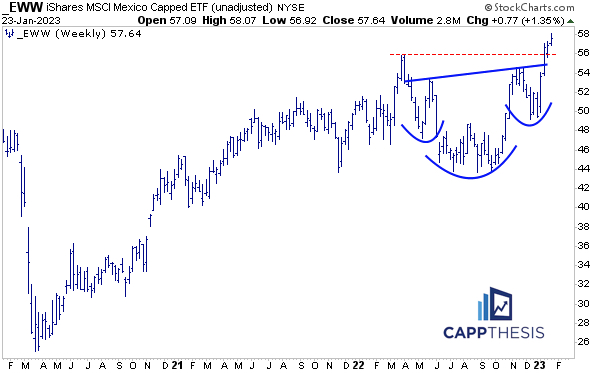 10- SLV Silver
Silver was the second worst ETF we track today, but it pivoted near its late December low around 10:00 and quietly finished 3% off its intra-day lows.  The potential high-level continuation pattern remains a possibility.