Topics Reviewed: 
1- SPX's performance
2- Patterns
3- Breadth
4- Sector ETFs: XLK Technology
5- S&P 500 Stocks – New 20-Day Lows:  BRKB
6- SOCL Social Media
7- BLOK & Bitcoin
8- SLV Silver
9- UGA Gasoline
10- MTUM Momentum
1-Performance
The poor finishes the last two days certainly proved more prescient than the net flat movement, and today's action negatively affected many charts, including the SPX.  The index's 2.5% decline was the first 2% loss since 11/9 and the 23rd decline of at least 2% in 2022.
The drawdown from Monday's opening highs now equals -5.5%.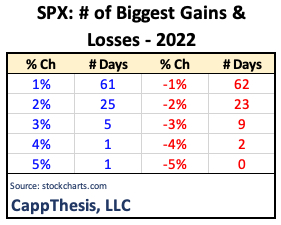 2-Patterns
The big pullback dragged the SPX below 3,900 by a few points, and without a quick reversal higher in the near term, the bullish pattern will be negated.  While that would be discouraging, we've seen this before: the index has not seen a successful multi-month breakout hit its target all year.

3-Breadth & Style
Large Cap Growth lagged all day, with the biggest names knocking down the SPX and NDX ratios as we'd expect.  For the SPX, there were zero advancing stocks within Consumer Staples, Technology and Utilities (139 combined names).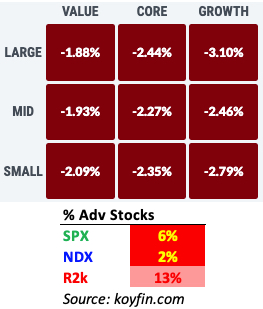 4-Sectors
All 11 Sector ETFs declined, as only XLE Energy avoided a decline greater than 1%. Four got hit by at least 3% or more… including XLC, which we've touched on this week.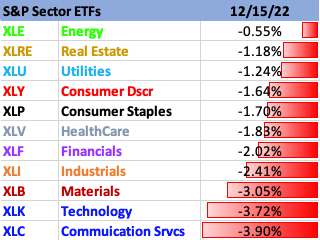 XLK Technology got hit hard, as NO holding was up today. AAPL's 4.7% decline accounted for 1.02% of the ETF's 3.74% drop.  XLK now is back below the key 130 zone.  Additional downside follow through would effectively negate its own breakout.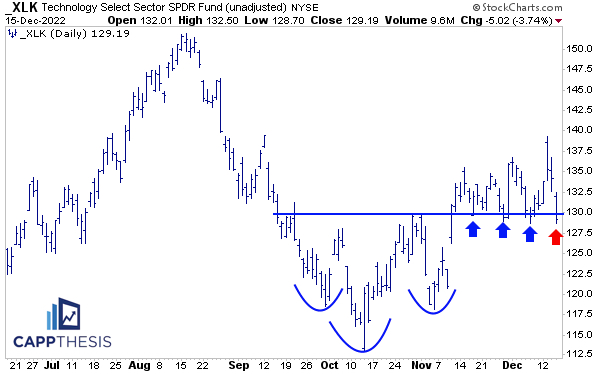 5- S&P 500 Stocks – New 20-Day Lows
145 S&P 500 stocks made new 20-Day lows today.  Financials had the most among the sectors, with 39 and many are sporting clear multi-week topping patterns now.   All 39 charts.
BRK.B is one of these, and considering it is the fifth biggest holding within the S&P 500, we need to pay attention to it.  It closed right on its late October highs, as it simultaneously completed its own six-week topping pattern.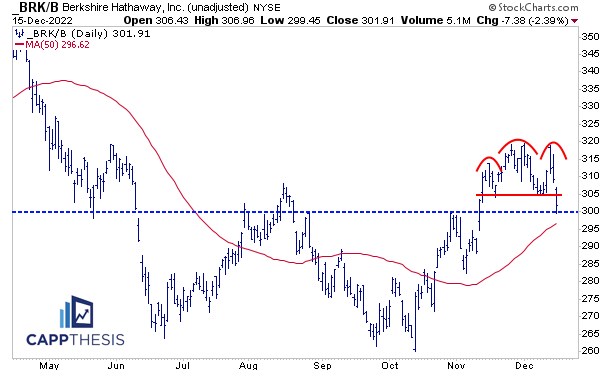 6- SOCL Social Media
SOCL fell 4.6%, faltering near a clear resistance zone (the lows from June through September) and closed under a five-week downtrend line.   Each of its components is part of the Communication Services Sector, and 14/48 are not domestic stocks – the biggest being Tencent.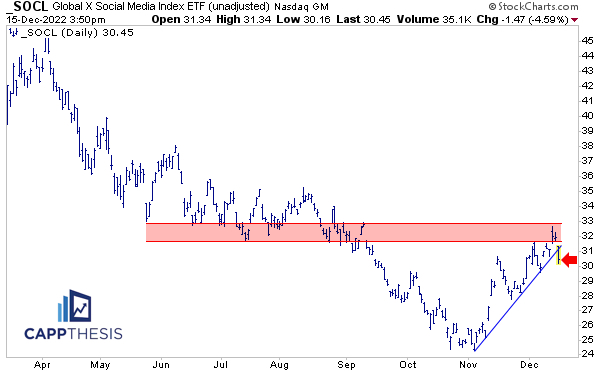 7-BLOK & Bitcoin
Four ETFs we track made new 52-wk lows, and of those was BLOK – the Blockchain ETF.  BLOK has been moving with Bitcoin over the last few months, but it did NOT rally in recent weeks as BTC did.
BTC's potential breakout has been retraced, and it is now testing that short-term breakout point. However, it's still noticeably above its own lows.  We'll learn who's leading whom soon.

8 – SLV Silver
SIL got hit hard today, too, but so far it remains above its large base breakout zone and still is trading within a tight upward sloping channel.  It remains one to watch…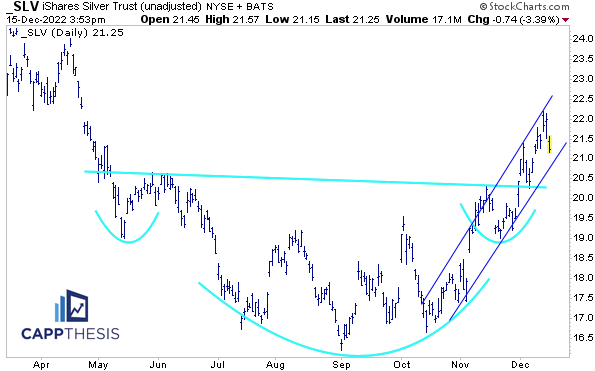 9-UGA Gasoline
UGA's four-day pop ended today, as it failed near its early December breakdown zone. A quick rollover from here would put the much bigger topping formation back in play.

10- MTUM Momentum
MTUM is another ETF that completed a multi-week top today, as it now is testing its converging 200 and 50-Day MAs.  MTUM broke down from a similar pattern in September…
Healthcare (36%) and Energy (23%) are by far its biggest sector weightings.