Topics Reviewed: 
1- SPX Performance
2- Patterns
3- Breadth
4- Sector ETFs: XLF Financials
5- Best & Worst 20 ETFs
6- US Dollar
7- XLP Consumer Staples
8- PEP Pepsico
9- EWW Mexico
10- MUB Muni Bonds
1-Performance
The SPX avoided its second straight 1% decline today, which only has happened once this year so far… 3/9 – 3/10.  It wasn't a valiant effort, especially with the final fade halting what looked like a spike into the close. 
Overall, the index was net-flat for the final six hours. Of greater significance, it now has closed below its intra-day mid-point for the fourth straight session.
2-Patterns
The SPX's 3/31 breakout remains in play for now.

3-Breadth & Style
While still noticeably negative, the NDX actually had the "best" breadth today among the major indices, with some (not all) of its biggest names helping.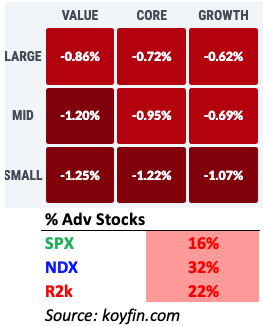 4-Sectors
10/11 Sector ETFs finished lower for the second straight day, with Energy bucking the trend and leading again, especially from the internals perspective. Four (non-growth) sectors had 90% negative breadth readings.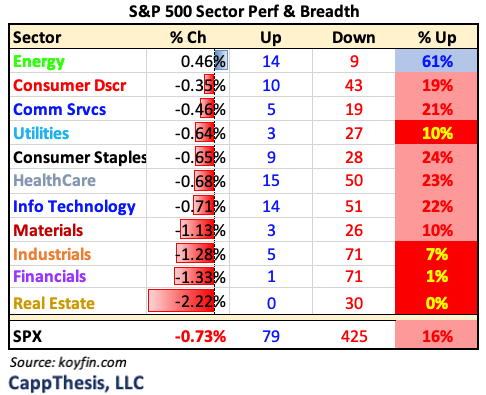 XLF Financials was among four sector ETFs to drop at least 1%, and its breadth numbers were conspicuously worse than most of the other sector ETFs.  It's now sporting a clear double top-like pattern.  Holding above the 31.5 zone now is very important.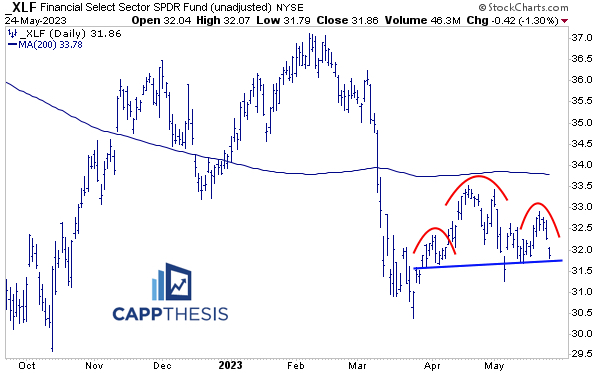 5- Best and Worst 20 ETFs
Big decliners again convincingly outpaced big gainers, with only the Energy-related equity ETFs making respectable showings as a group.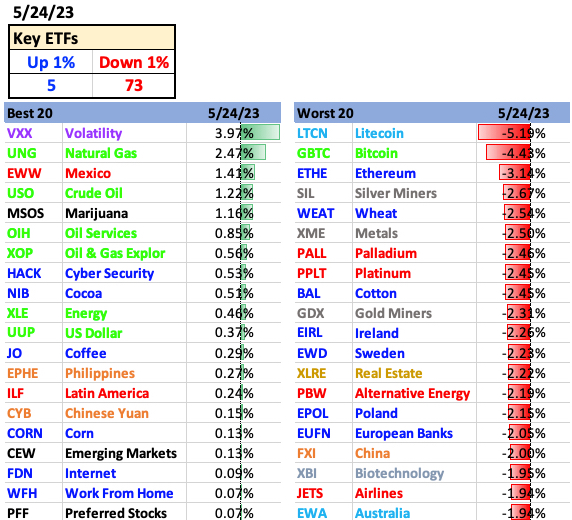 6-US Dollar
The US Dollar notched a gain for the sixth time in the last seven days, pushed through the downtrend line from the 2022 highs, and its 14-d RSI now is at 66, the highest level since 2/24. 
That last advance eventually lost steam when the short-term uptrend line was breached, which is something we should watch for again now.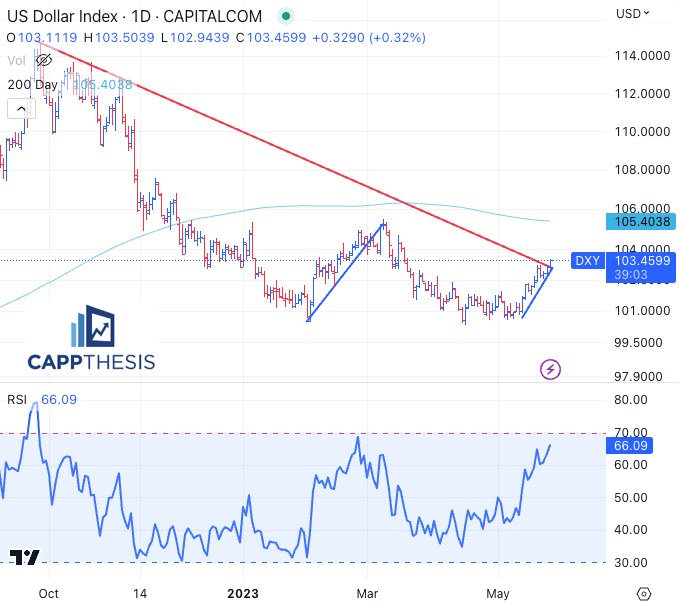 7- XLP Consumer Staples
XLP fell for the seventh time in the last eight sessions today and now is close to support, its 200-Day MA and the uptrend line cited on Monday. Its 14-D RSI also got to nearly oversold territory today for the first time since late October. In other words, it appears short-term washed out and potentially ready to mount a bounce attempt.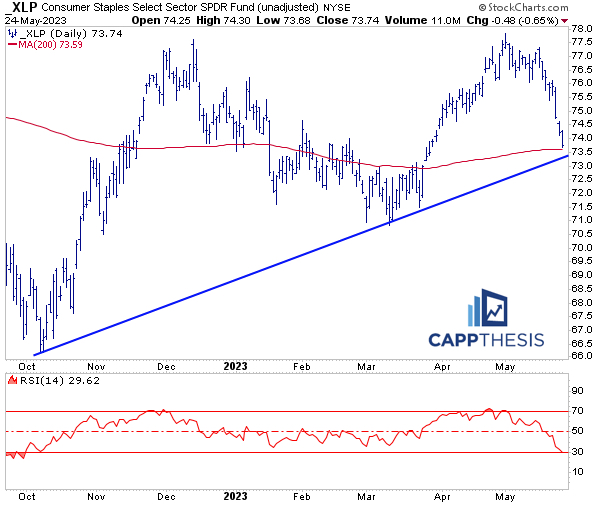 8-PEP PepsiCo
PEP is XLP's second biggest component, with a 10% weighting (PG is 14%). Thus, its undeterred two-month uptrend through early May was a major reason for XLP's spring advance. Likewise, the sizable downturn the last two weeks has been a huge factor. 
The decline (finally) pulled the RSI back from the mid-70s, which now sits at 35. It's not quite oversold yet, and the 6.5% drawdown is less than prior pullbacks… But with the long-term uptrend still in play, it could attract dip buyers again soon.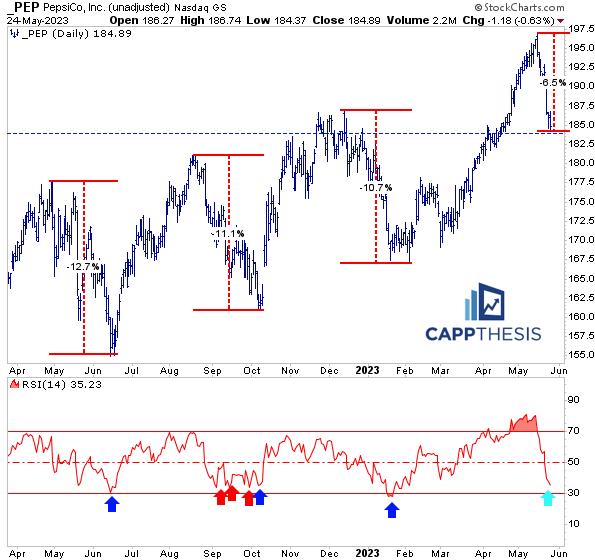 9-EWW Mexico
EWW was one of just four ETFs we track to finish UP today. If its uptrend is for real, then this could be another buying opportunity: it's pushing back above its 50-D MA, held its uptrend line and is coming off an RSI that nearly hit oversold territory – all of which led to rallies three prior times.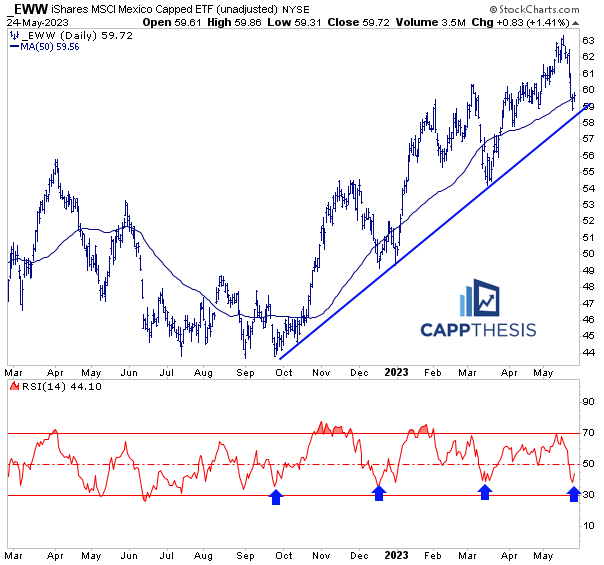 10-MUB Muni Bonds
MUB Muni Bonds is nearing a clear support zone and now is oversold again – two conditions that led to multi-week bounces over the last 12 months.