Topics Reviewed: 
1- SPX Performance
2- Patterns
3- Breadth
4- Sector ETFs: XLC Comm Services
5- GOOGL
6- XLK Technology
7- IAI Brokers
8- OIH Oil Services 
9- BOAT Shipping
10- IEF 7-10 Treasury Bonds
1-Performance
The SPX dropped over 1% on Wednesday, as the late morning bid proved to be a temporary respite.  It was the third decline in the last four days, with the index closing near its intra-day lows each time.
It also was the SPX's sixth +/-1% move in the last seven days.  We haven't seen a cluster of 1% moves like this since October 28-November 5th, 2020, which marked a major low.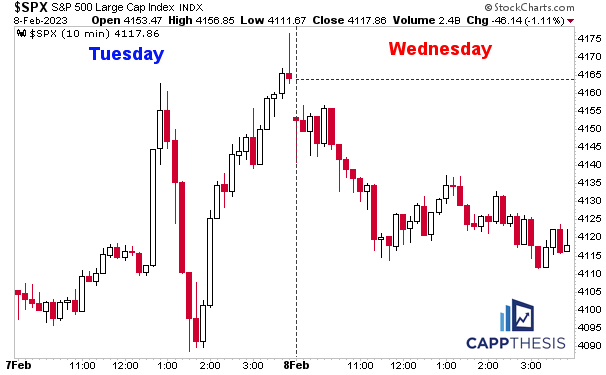 2-Patterns
Today's action was muted vs. yesterday, thus, it produced an "inside day," with the index's high and low both being less extreme than the prior day's session.  This allowed the SPX to stay above 4,100 for another day, with the bullish patterns remaining in play, too.

3-Breadth & Style
Performance-wise, the variation among the Styles wasn't wide, but breadth noticeably was worse for Large Cap Growth.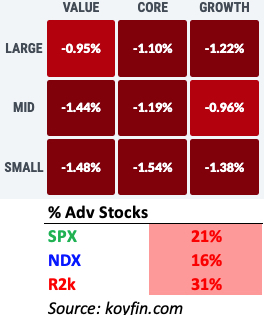 4-Sectors
All 11 Sector ETFs declined today, but just three fell more than 1%.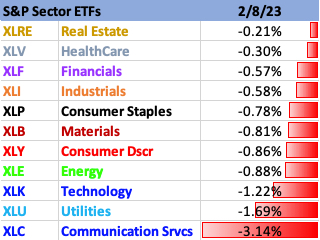 XLC Communication Services lagged all session thanks to GOOGL (and META).   The ETF's 3.1% decline was the worst single day loss since 12/15.  While the sell-off was sharp, the ETF remains above its gap from 2/2, and it's JUST now back into its upward sloping trading channel. 
We knew the very stretched overbought condition couldn't last for long, and now the RSI is at 61.  That's still on the high side.  Seeing the indicator bottom anywhere near 50 would be constructive.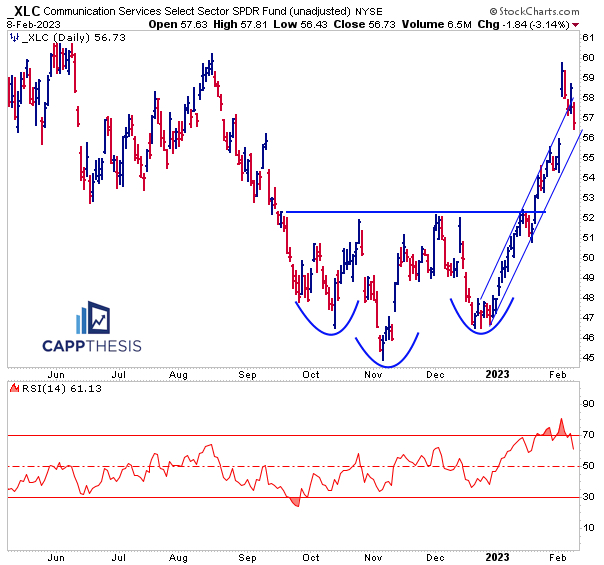 5- GOOGL
Today's near 8% decline pulled GOOGL back below its 200-Day MA (and its pictured 40-week MA).  As this long-term chart shows, GOOGL remains in a downtrend. The next critical step would be to NOT make another lower low (as the other pullbacks all did).
Combined, GOOG and GOOGL account for 22% of XLC (META has a 20% weight), thus, its path will continue to influence the ETF – and the greater large cap growth space.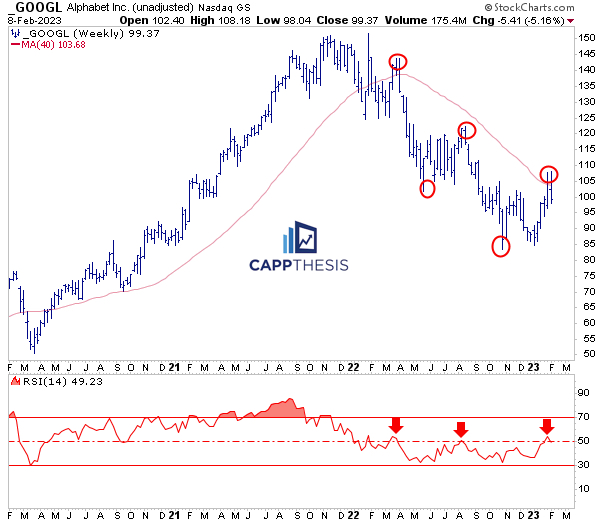 6- XLK Technology
XLK was one of just five ETFs we track to make a new 50-Day High today.  Two of the five finished lower on the day, and one of those was down more than 1%: XLK.  It's still above last week's breakout zone, but continued weakness clearly would put said breakout in jeopardy.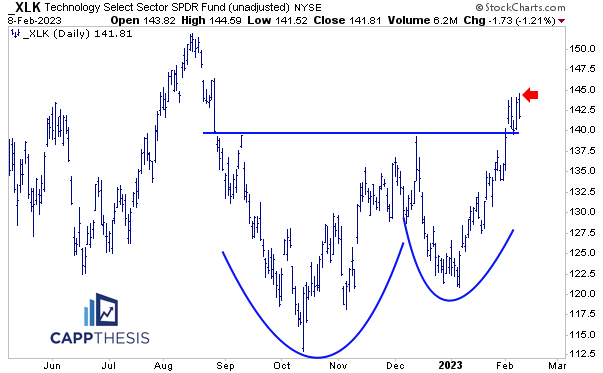 7- IAI Brokers
IAI Brokers ALSO made a new 50-Day high and managed to hold on for a marginal gain on Wednesday.  Thus, it (ever-so-slightly) extended further from its multi-week bullish pattern and got closer to completing a much bigger bottoming formation, as well… very similar to the XLF Financials ETF, which we discussed yesterday.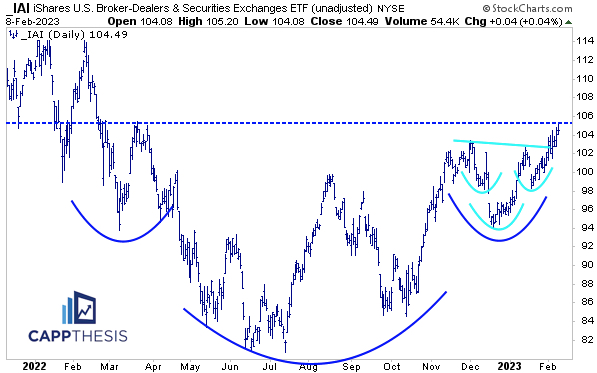 8- OIH Oil Services
We profiled OIH's DAILY chart yesterday, and here's the weekly, which continues to be one of our favorites.  OIH has been taking its time in capitalizing on what could be a major breakout.  It bears watching.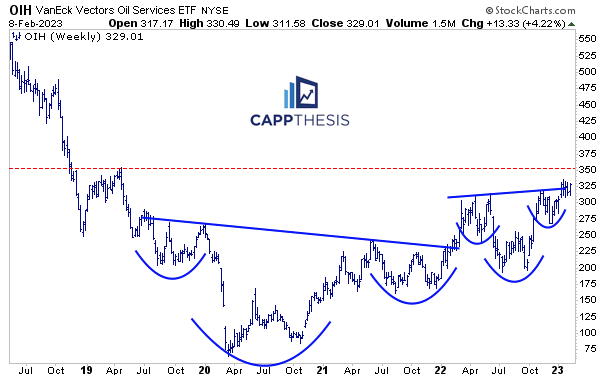 9- BOAT Global Shipping
The BOAT ETF is illiquid, but it's a good indicator for the Global Shipping industry that it represents.  It muscled to a new 50-Day High and, like various others, is trying to capitalize on TWO bullish patterns simultaneously.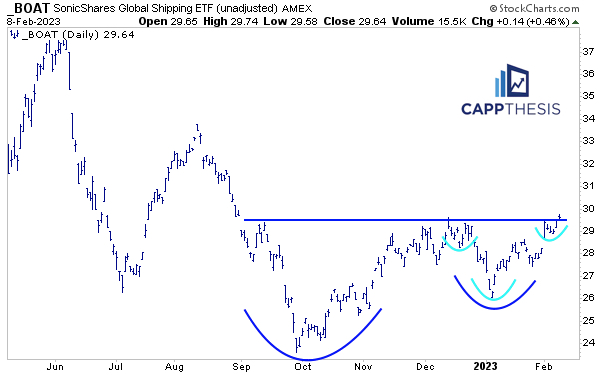 10- IEF 7-10 Year Treasury Bond
The IEF ETF was the only bond ETF to make a new 20-Day low on Wednesday.  But that was short-lived, as IEF ended up logging a positive reversal. As is clear on the charts, visits to this uptrend line has prompted demand since November, which IEF will be trying to replicate again now.