Topics Reviewed: 
1- SPX Performance
2- Patterns
3- Breadth
4- Sector ETFs: XLK Technology
5- Best & Worst 20 ETFs
6- KRE Regional Banks
7- IHF HC Providers
8- ETFs – New 52-Wk Highs
9- XHB Home Builders
10- XLI Industrials
1-Performance
The intra-day chart says it all, and while the late afternoon spike didn't create new highs, the downside action could have been a lot worse, too. 
As we know, the SPX came into the day as stretched as we've seen it in at least 10 months.   Given the hawkish commentary, there was every reason for a market sell-off.   All that, and it ended up being the SPX's fifth straight gain, the longest since those eight straight from Oct-Nov'21.
The two-day chart looks toppy. While that's very short-term, seeing downside follow through tomorrow could shake up momentum a bit.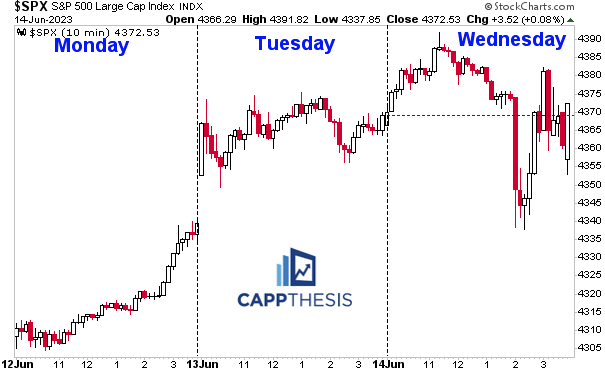 2-Patterns
No change with the bullish patterns.

3-Breadth & Style
Breadth was as bifurcated as we've seen lately with Small Caps lagging: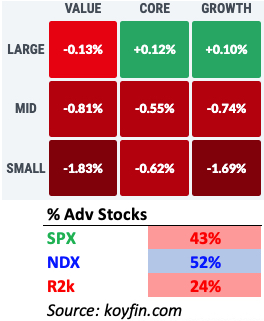 4-Sectors
Just 4/11 Sector ETFs finished higher on Wednesday, as Healthcare and Energy noticeably lagged.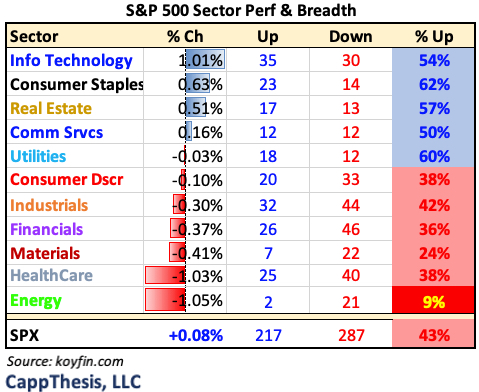 XLK Technology was the only ETF to finish with a 1% gain, and it also was the only one to close near its intra-day highs.  Its 14-Day RSI is at 75; XLY's is 77.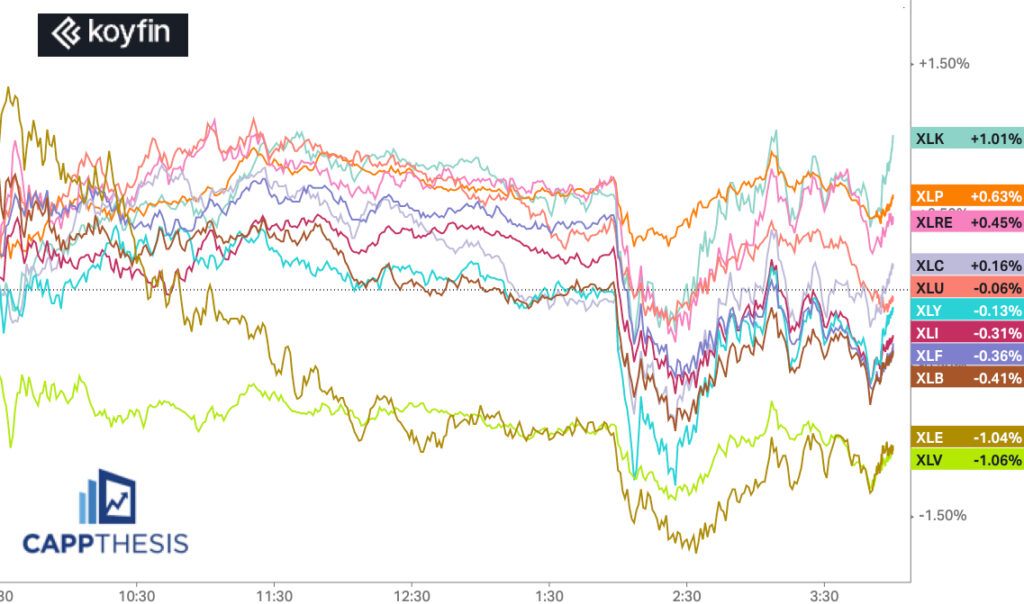 5-Best and Worst 20 ETFs
The big movers were as even as they could have been despite the afternoon fireworks.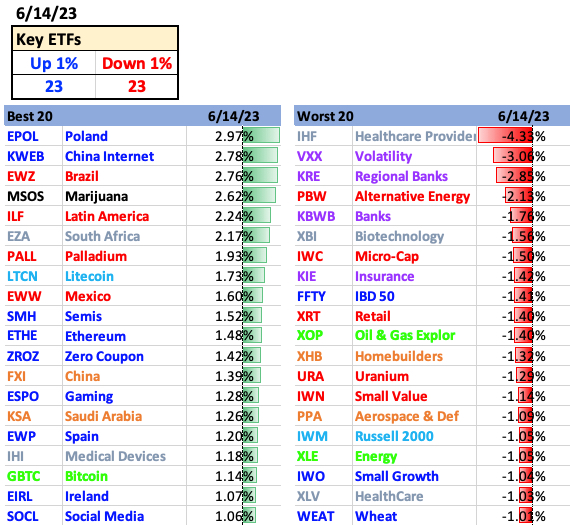 6-KRE Regional Banks
KRE got hit hard, but it remains close to completing a potential three-month bottoming formation.  The 45-resistance zone is key.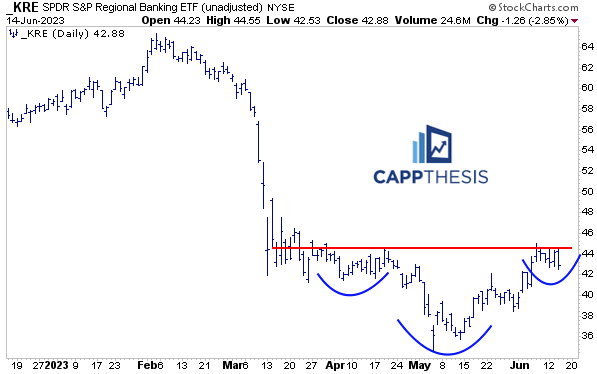 7-IHF HC Providers
IHF also was among the biggest losers today, as its recent 4-day spike has been completely reversed.  It's getting closer to key support near 240 again now.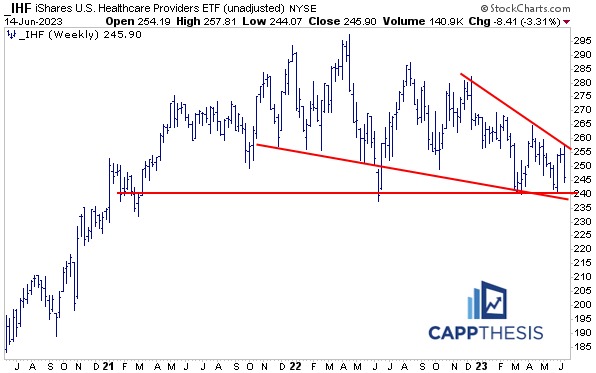 8-ETFs New 52-Week Highs 
21 ETFs we track made new 52-Week Highs – nine of them have RSI Readings above 70.   GREK Greece and ILF Latin America stand out as the only non-domestic growth ETFs on this list.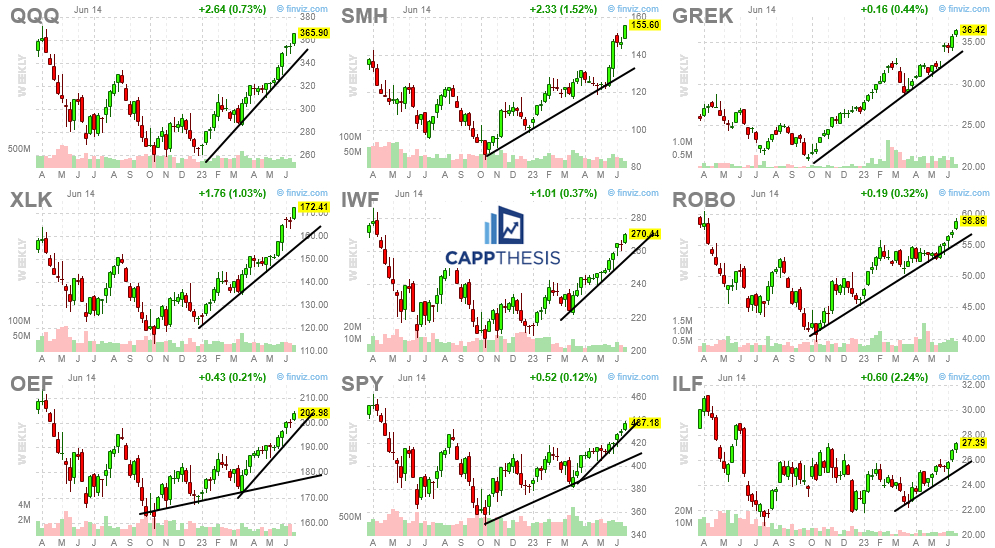 9-XHB Materials
XHB made a new 52-wk high and then logged a negative reversal. Its uptrend remains in play, thus, seeing it drop back down to its last breakout zone could attract buyers again.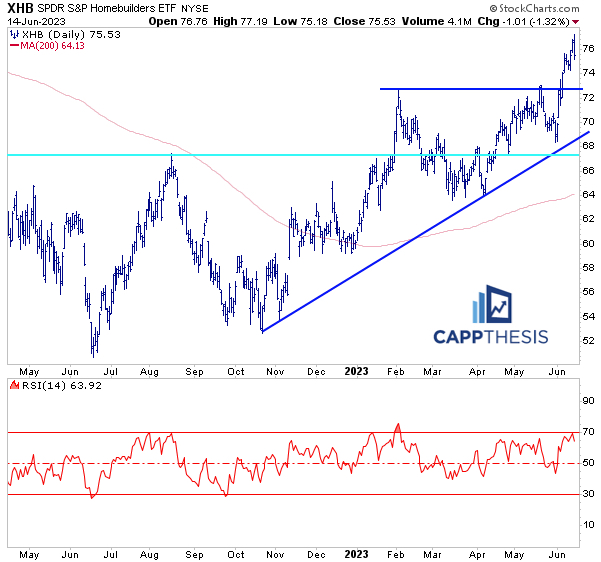 10-XLI Industrials
XLI Industrials made a new 52-week high today and is now above the large cup and handle pattern we've referenced recently.  Staying above this breakout zone initially would target new all-time highs.