Topics Reviewed: 
1- SPX Performance
2- Patterns
3- Breadth
4- Sector ETFs: XLE Energy
5- Best & Worst 20 ETFs
6- OIH Oil Services
7- CTRA Coterra Energy  
8- XLF Financials
9- KRE & KBWB
10- TFC Truist Financial
1-Performance
The SPX continued its quiet, yet buoyant, July on Monday by gaining 40 bps and finishing smack-dab in the middle of its trading range.  As has been the case nearly every session this month, there was a lot more interaction outside of the index, especially within Energy and Financials – today's focus.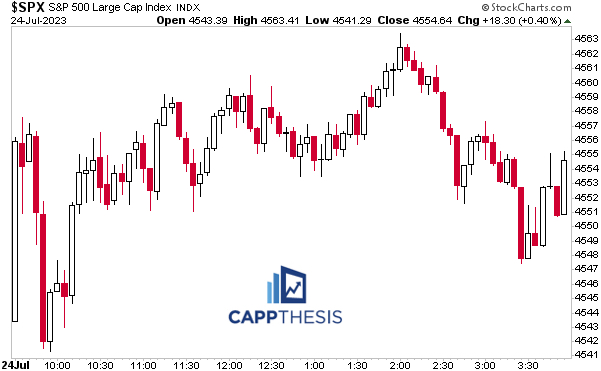 2-Patterns
The SPX finished within 84 bps of its 4,590-upside target.

3-Breadth & Style
Breadth was mildly positive, with Small Caps performing better in aggregate.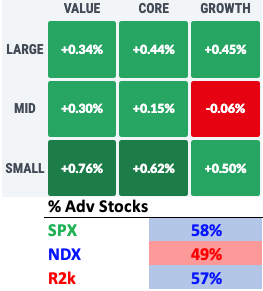 4-Sectors
9/11 sectors finished higher on Monday, with three up more than 1%.  Energy had over 90% positive breadth, but Financials helped the index the most, with 60 of its 72 names finishing higher.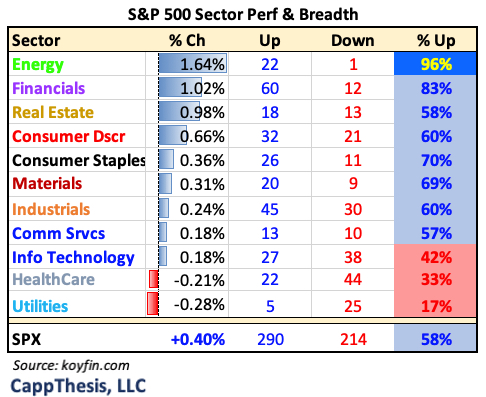 XLE Energy ended up logging its fifth straight gain Monday, which now is its longest winning streak since notching seven-straight from late March-early April. While the ETF finished off its highs, it also closed back above its 200-Day MA for the first time in 10 weeks.
It's not quite overbought yet, and XLE remains below its upside target near 88.  Pulling back to the highlighted area would be an acceptable spot to buy the dip.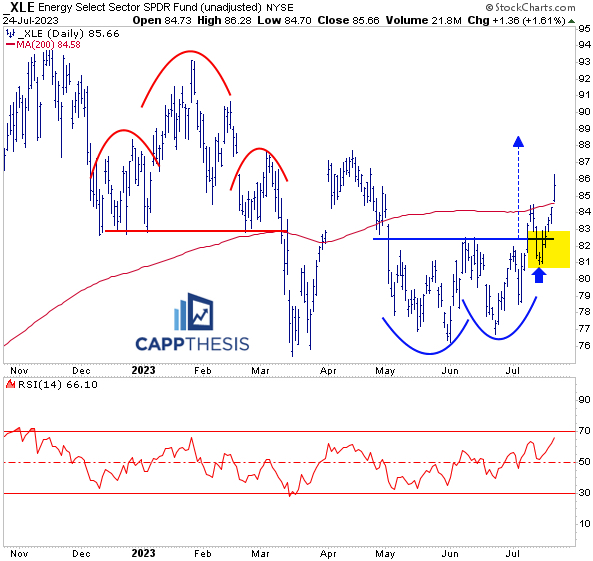 5- Best and Worst 20 ETFs
Big advancers had the advantage today, but overall, the moves were relatively small. The only growth-related ETF on the leaderboard was KWEB China Internet, which now is testing its upper threshold of a clear triangle pattern.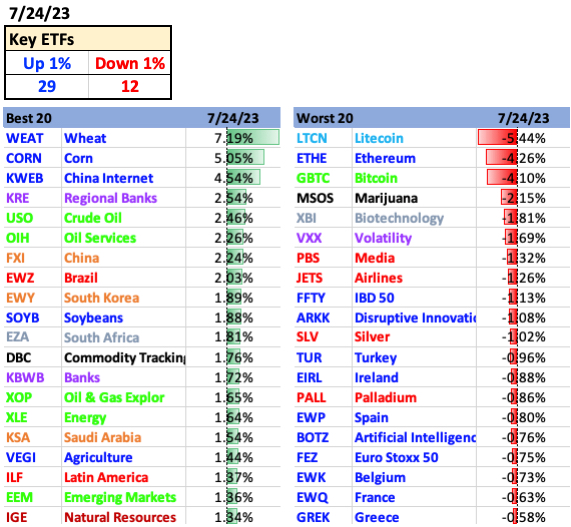 6-OIH Oil Services
OIH hit its highest point since April'19 with today's +2.3% gain. It remains very stretched on the daily work, with a 14-Day RSI at 77. Previous iterations (cited on the first chart) led to pullbacks soon thereafter. 
Longer-term, OIH continues to make higher lows and higher highs, but keep in mind that buying breakouts haven't worked too well for OIH.  Buying weakness within the long-term uptrend has.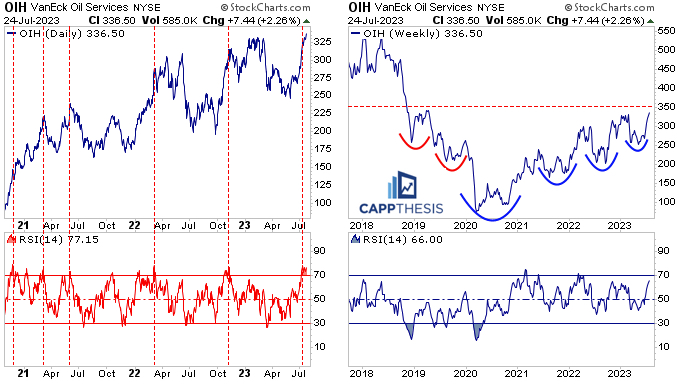 7-CTRA Coterra Energy
CTRA is an Exploration and Production name (reporting on 8/7 according to finviz.com).  After bouncing back recently, it's now above its latest breakout zone again.  The measured move target is near 30.25.  The 61.8% retracement of the entire decline is around 31 (not shown). A suggested stop loss would be the 25-area, where a mini breakout happened a few weeks ago.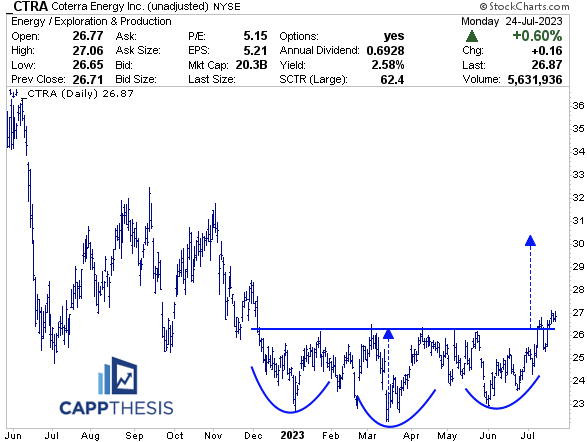 8-XLF Financials
XLF had another good day and hit its pattern breakout target near 35.5-36.  As a result, its 14-Day RSI now is at 75, which is the highest since Feb'21. The short-term risk-reward, thus, is not favorable right now…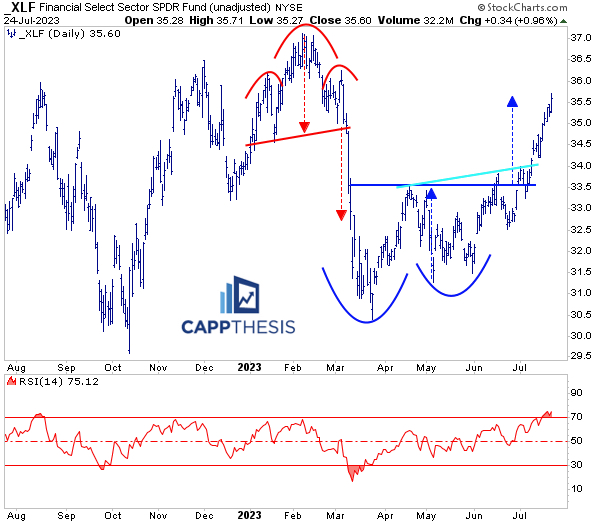 9-Banks
KRE and KBWB continued their own extensions, and clearly have room to run from here.  With the breakout zones being so clear, it's obvious where they both can back and fill to and still be in "breakout mode."

10-TFC Truist Financial
TFC is a Regional Bank name that is taking its time in breaking out. With it finding support after last week's reversal lower, it could be ready to reclaim the 34 zone. If it can, the upside target would be near 42.  A suggested stop loss would be around 31.5… the 50-Day MA is near there, too, along with an uptrend line, drawn from the mid-May low point.