Topics Reviewed: 
1- SPX's performance
2- Patterns
3- Breadth
4- Sector ETFs: XLF Financials
5- SIL Silver Miners
6- KWEB China Internet
7-SOCL Social Media
8- CORN Corn
9- DBC Commodities
10- UUP US Dollar
1-Performance
The SPX snapped its short two-day losing streak, but the Fed Minutes reaction kept the advance on the small side. The index closed slightly above its mid-point, but all the price action took place inside of yesterday's considerably bigger intra-day range.  The index now has closed between 3,800 and 3,900 in 12 of the last 13 trading sessions, dating back to 12/15/22.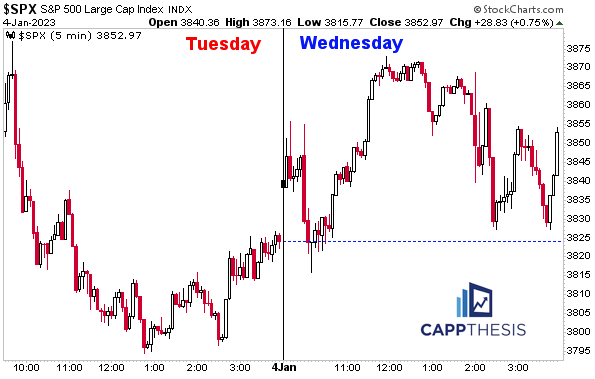 2-Patterns
The relatively quiet movement again didn't alter the SPX's pattern work…

3-Breadth & Style
Value outperformed across the market cap spectrum, with Mid and Small Cap value besting Large Cap on Wednesday.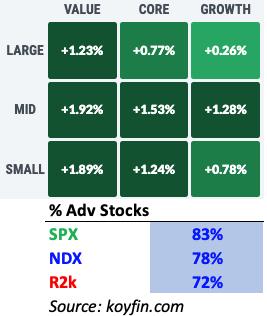 4-Sectors
10/11 Sector ETFs finished higher today, with five up more than 1%. XLE fought back but still finished in the red.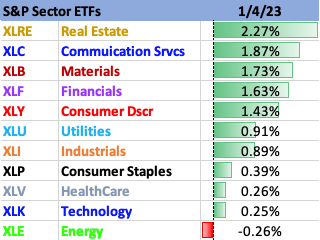 XLF Financials was among the leaders today.  Its weekly chart is the most interesting, as it gets ready to potentially test the VERY important 36 zone again. 
The ETF failed there three different times in 2022, but if it can get back there again soon, it will be attempting a breakout after logging a higher low this time.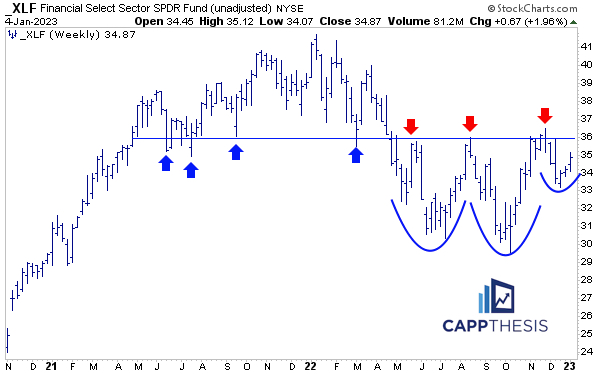 5-SIL Silver Miners
SIL has taken its time in leveraging the sixth month base, but it's hung around its highs in recent weeks. That has set up another small bullish pattern.  Two bullish formations are better than one…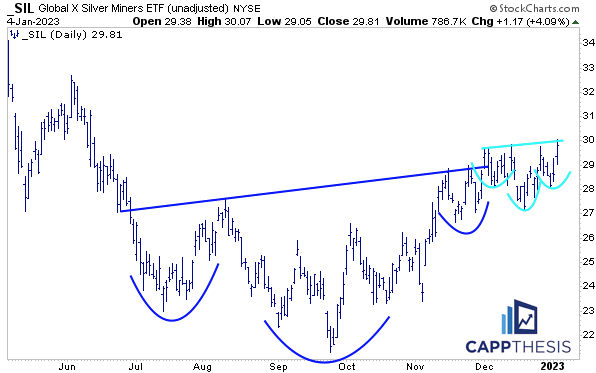 6- KWEB China Internet
The news-induced spike helped KWEB gap above the neckline of the inverse H&S pattern we profiled yesterday.  Holding above 32 would keep the breakout intact.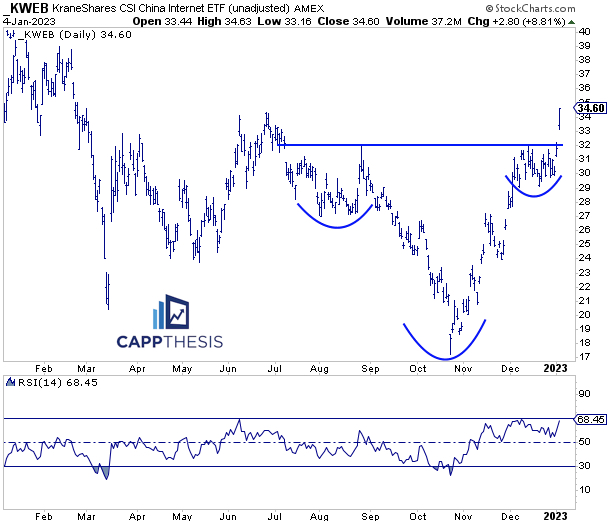 7-SOCL
SOCL has several foreign components with big weights. Here are its top 10 holdings.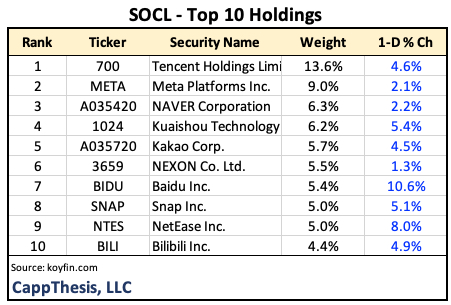 With nine of these up at least 2% today, SOCL made a new 50-Day high and closed above its September highs. It, too, now has the chance of leveraging a multi-month breakout.  META has a big weight here, as well, thus, seeing the stock hold things together will be critical.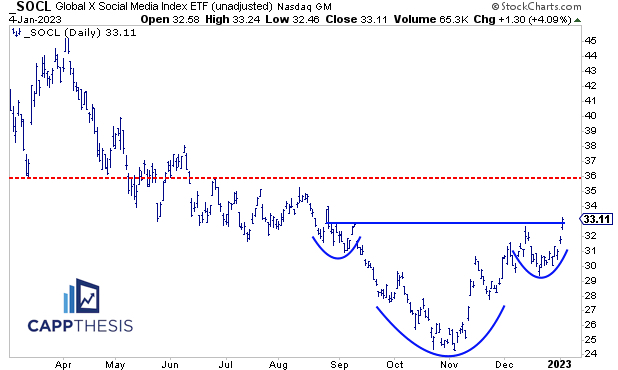 8- CORN
CORN faces a big test soon. Despite a strong rally from August through October, it has been making lower highs since topping out in May. Thus, it's now getting close to testing a 2 ½ year uptrend line, which has been respected every time it's been visited thus far.  Failing to hold could open up the possibility of revisiting the July lows.

9-DBC Commodities
Energy makes up 50% of the DBC ETF, but it's not all Crude Oil, as the ETF holdings table shows below.  That said, the chart is similar to many Energy ETFs, as more downside would complete this large topping pattern.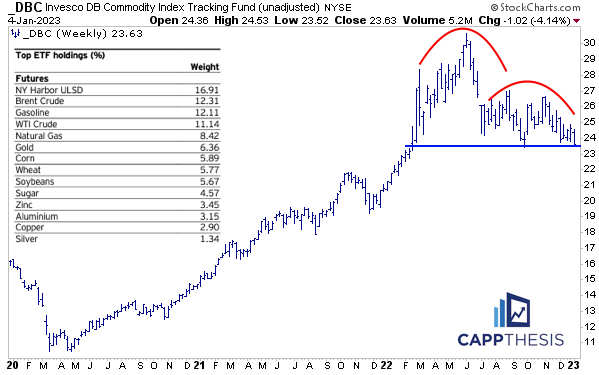 10- UUP US Dollar
UUP has continued to trade in a tight downward sloping channel, as its 14-Day RSI has remained trapped under 50.  That will need to change if the Dollar ETF is going to mount any sort of meaningful comeback soon.